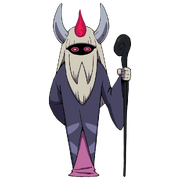 Wicked Tribe (カイマ族, Kaima-zoku?) is a special class introduced in Yo-kai Watch 2: Ganso and Honke. They are subdivided in three groups:
Wicked Executives, a group compossed by powerful, humanoid Yo-kai ranked S, which are the first Yo-kai in this class listed in the Yo-kai Dictionary.
Wicked Servants, a group of ten individuals of classic Yo-kai, controlled by Wicked creatures, appearing similar to their normal counterparts, with the difference being their darker color scheme and a purple foggy mask with red eyes in their faces.
A third group of Wicked Yo-Kai which are not registered in the Yo-Kai Dictionary and cannot be befriended, they are also responsible for putting Classic Yo-Kai under their control and turning them into Wicked Servants.
Although the player can get their Yo-kai medals -complete with their own summoning song-, they are unusable in battle until Yo-kai Watch 2: Shinuchi; after purifying Tokio Ubaune, the player can befriend the Wicked Executives around different buildings of Springdale and turn ten individuals of classic Yo-kai into their Wicked Servant counterparts by combining them with the Wicked Powder.
Summoning Chant
In the games and when playing with the toys, their chant is: Wicked, sticked! Who's calling Wicked? Icked, Wicked! (カーイマカーイマ!呼んだカーイマ?本当カーイマ!? Kāima Kāima! Yonda kā ima? Hontō kā ima!? "Kaima Kaima! Did you call us now? For real now!?").
Wicked-Tribe Yo-Kai
| Name | Series | Rank | Class | Element | Role | Fav. Food | HP | Spirit | Power | Speed | Defense | Evolution |
| --- | --- | --- | --- | --- | --- | --- | --- | --- | --- | --- | --- | --- |
| Samayo Kaima | | | | | | | | | | | | |
| Yurameku Kaima | | | | Kaima | | | | | | | | |
| Badsmella | | | | Wind | | | | | | | | |
| Mad Kappa | YW9-027 | | | Water | Fighter | Vegetables | 1730 | 1280 | 1020 | 1140 | 920 | |
| Madmunch | | | | Earth | | | | | | | | |
| Defectabull | YW9-024 | | | Restoration | Healer | | 1650 | 1040 | 1040 | 1040 | 800 | |
| Gnomine | YW9-025 | | | Restoration | Healer | | 1650 | 1160 | 880 | 1040 | 800 | |
| Grublappa | | | | Lightning | | | | | | | | |
| Scaremaiden | YW9-026 | | | Water | Attacker | | 1650 | 1160 | 880 | 1000 | 760 | |
| Feargus | | | | Earth | | | | | | | | |
| Shamasol | YW9-023 | | | Wind | Fighter | | 1610 | 940 | 990 | 950 | 760 | |
| Wrongnek | | | | Restoration | | Sweets | | | | | | |
| Unfairy | YW9-032 | | | Absorption | Ranger | Snacks | 1830 | 1340 | 1070 | 1190 | 1080 | |
| Unkaind | YW9-031 | | | Water | Healer | Seafood | 1830 | 1340 | 1110 | 1230 | 960 | |
| Unkeen | YW9-030 | | | Thunder | Fighter | Curry | 1830 | 1380 | 1230 | 1230 | 1040 | |
| Unpleasant | YW9-029 | | | Wind | Ranger | Oden Stew | 1830 | 1380 | 1070 | 1190 | 1000 | |
| Untidy | YW9-028 | | | Earth | Tank | Meat | 1830 | 1220 | 1230 | 1070 | 1080 | |