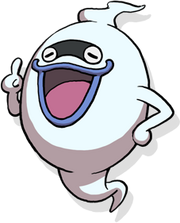 Whisper (ウィスパー, Wisupaa?) Keita's personal ghost butler and overall guide to the world of yokai. Keita befriended him upon inserting a coin into an old toy capsule machine he found in the forest. In Yo-kai Watch Busters, He is revealed to be a Slippery Tribe Yo-kai
Bio
This "Yo-kai butler" knows everything there is to know about Yo-kai...or that's what he'd like you to believe. Most of his knowledge comes from the Yo-kai Pad he carries. He is revealed to be a C rank Yo-kai that evolved from a Yo-kai called Nounuttin.
Appearance
A cartoony, white ghost with a black mask-like mark surrounding his eyes. He has blue lips with an upper-lip vaguely resembling a mustache. He has a small whisp atop his head and a tail that constantly billows. His Voice Actor is Tomokazu Seki. ef3q4vgerg64h
Personality
He has a slightly uptight personality and short temper, leading him to come off sounding a tad arrogant. He prides himself in knowing all there is to know about yokai yet often finds himself hastily checking through the Yo-Kai encyclopedia when confronted by one. He seems to enjoy lecturing those around him despite being a bit of a hypocrite. Whisper's voice ranges from low tones to high tones thus resulting in an odd manner of speaking. He often utters "Whis~" in his speech.Whisper is well known for his fancy british accent.
Relationships
though Nate and whisper get into fights a lot, ( mostly fighting over who is right ) Nate
and whisper are good companions.As stated by Shogunyan "You two share a powerful bond".
Abilities and Powers
Nate can access/change his Yo-Kai Watch by sticking his hand into Whisper's mouth. Whisper can also shape shift.
History
thought to be some kind of evil spirit, Whisper was locked inside a capsle machine to soon be freed by Nate.
Trivia
He is the first Slippery Tribe Yo-kai to ever been owned by Nate in the series even though only being a Yo-kai butler.
Whisper never gave his medal to Nate, both in the anime and in the game.
Gallery