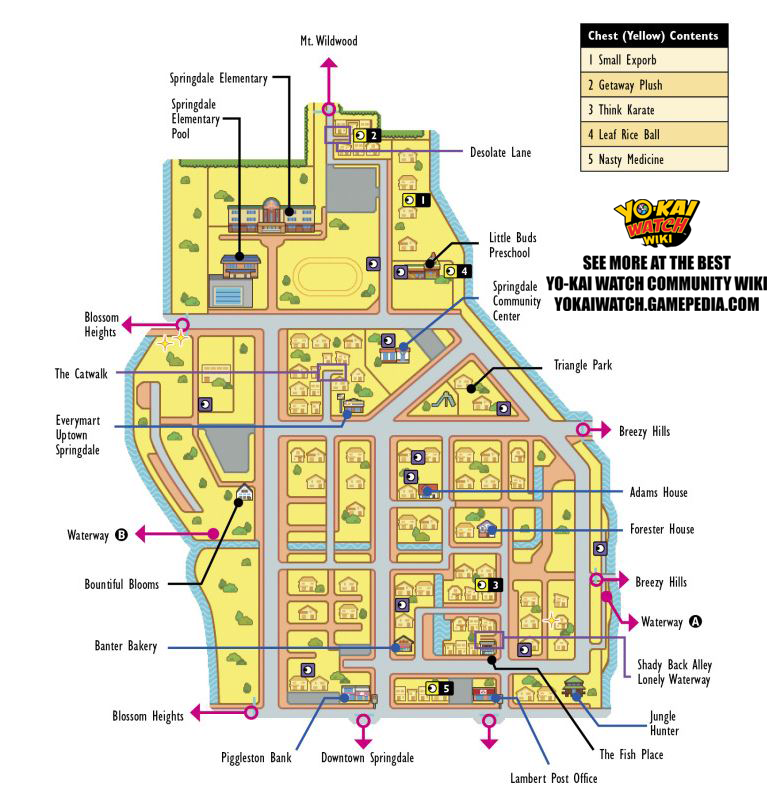 Points of Interest
Springdale Elementary - a large elementary school that features a gym and a pool. First visited during Chapter One - Welcome to the World of Yo-kai, where a janitor tells you the location of super rare bugs in Mt. Wildwood.
Desolate Lane - a lane where bad Yo-kai hang out. Typical location of Roughraff and the likes.
Little Buds Preschool - preschool analogue to Springdale Elementary.
Triangle Park - meeting place of most elementary students, and a bulk of where

Nathan

and Katie meet.
"Adam's House" (Nathan's House) and "Forester House" (Katie's House) - named after the last names of Nathan and Katie; where the Yo-kai Medallium resides.
The Fish Place - quest location for the bulk of early game quests.
Banter Bakery- Sell various types of bread - some in limited quantities!
Everymart Uptown Springdale - convenience store allowing for healing of Yo-kai and purchasing of items in the early game.
Jungle Hunter- You can trade in your bugs here for various items! They also sell Black Syrup, makes catching bugs easier!
Lambert Post Office - used to enter codes and earn rewards when criminal Yo-kai grant you their passwords.
Piggleston Bank- Come here to scan your promotional QR codes to get coins for the Crank-a-kai!
Chest Contents
Possible Yo-kai encounters
In trees
In patches of grass
Under cars
Under blue vending machines
Beneath trash
Shops in Uptown Springdale
*Fresh Urchin only available Chapter 6 and later.
*Choice Tuna only available Chapter 10 and later.
*For a full list of items that you can exchange your bugs for at the Jungle Hunter, see this page.