Jurassic World: Dominion Dominates Fandom Wikis - The Loop
Play Sound
-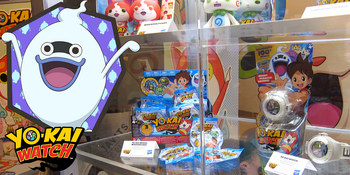 There have been several toys created as tie-ins between the various Yo-Kai Watch games and the Yo-Kai Watch anime. Hasbro is planning to release a US/worldwide toy line based on the series in 2016.[1][2][3]
Release
Yo-kai Watch merchandise in the US is expected to drop near the beginning of 2016. Yo-kai Family HQ at the New York City Comicon stated that the merchandise will release in 2016, and the lineup will feature (amongst other things):
Yo-kai Watch (~$20 USD)
Blind Pack of Three Yo-kai Medals (~$3-4 USD)
Yo-kai Watch Figurines (~$5-15 USD)
Yo-Kai Watch Dictionaries
Bandai has released several official Yo-Kai Watch Dictionary files, known in Japan as Yokai Gerapostini. These bound volumes are meant for storing the Yo-Kai Medals within. There are also file add-on packs called Gerapo-plus. Each binder and add-on pack also comes with an exclusive yokai medal. They come in many colors and for various release lines of medals including brown, purple, yellow, and black. Each comes with clear pages with pockets suitable for holding medals and pages of information for various medals.
Gallery
Yo-Kai Medals
Yo-Kai Medals are collectible plastic disks in a variety of frame styles and colors depicting Yo-Kai. These can be inserted into the toy watch or into the Yo-Kai Pad. Each medal also includes a QR code on the back that you can use in-game to redeem gacha coins and other items and surprises! Each QR code is tradeable and usable once per game save, and each medal has a unique code even if you end up with a duplicate.
Gallery
Yo-Kai Watches
The Yo-Kai Watch is a toy variant of the titular watch. There are currently six watch variations in Japan, the original Yokai Watch, Fumika's necklace style Yokai Watch, the Zero-shiki Watch, the Prototype-U, and even newer U1 and U2 watches. Each watch is modeled after watches from the games and anime series. Yo-Kai Medals can be inserted into these watchs (compatibility will vary). The original watch toy was so popular upon release that the entire stock was sold out within two weeks.
Gallery
Yo-Kai Pad
The Yo-Kai Pad is a small device that reads Yo-Kai Medals, providing data instead of simply art like the Yo-Kai Watch.
Box Scans
Instructions
Motherboard
Screenshots
Trading Card Game
Yo-Kai Watch has a collectible card game in the series. Each Yo-Kai is represented as a card with certain attack and defense characteristics, largely mirroring in-game stats.
Gallery
Plush Toys
There are a great deal of plush toys from the Yo-Kai Watch series, with characters like Jibanyan being quite popular.
Gallery
Home Goods
Like many popular franchises in Japan, Yo-Kai Watch has spawned a wide range of home goods, including fans, bins, and puzzles. A sample of the kind of goods available can be found at various online stores.
Gallery
Clothing
Similar to home goods, clothing based on anime is very popular amongst youth in Japan. For this reason, a wide range of clothing items have been created for Yo-Kai Watch.
Gallery
Comics
These are several manga series for Yokai Watch. Yokai Watch (the main comic series running in CoroCoro), Yokai Watch Busters (based on the Yokai Watch Busters games, running in CoroCoro), Yokai Watch ~WakuWaku Nyanderful Days~ (a Fumika centered Yokai Watch story running in Ciao), and a new series of short strip comics Yokai Watch 4Koma.
Coro Coro
CoroCoro Comic and CoroCoro Ichiban are two monthly publications that serialize various manga chapters and report news about the games, toys, and anime.
Coro Coro Gallery
Toy Gallery
References