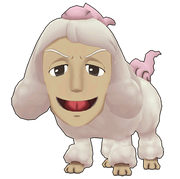 Legendary Yo-Kai (レジェンド妖怪, Rejendo Youkai, Legend Yo-Kai?) are a select group of powerful Yo-Kai that can only be befriended after filling special pages in the Yo-Kai dictionary by collecting certain sets of Yo-Kai medals, different for each one. Every Yo-Kai in this group is S ranked, and each one represents one of the eight primary classes.
Five of these Yo-Kai were introduced in the first Yo-Kai Watch video game, representing the Isamashi, Fushigi, Pokapoka, Bukimi, and Goketsu classes. In Yo-Kai Watch 2: Ganso and Honke, three more Yo-Kai representing the Pretty, Usurakage and Nyororon classes were introduced, completing the set of eight.
Summoning Chant
Legend Yo-Kai have an unique summoning chant which plays instead of the regular ones. In the anime and when playing with the toys, their chant is: "Imaginary! Incendiary! Flip flop! Squiggle boom! Slim slam! Legendary!" (レジェーンド!レジェーンド!ブッタマゲーンドー! Rejēndo! Rejēndo! Buttamagēndō!, "Legend! Legend! Amazing!").
Videos
Legend-Class Yo-Kai
criminal"
Name
Series
Rank
Class
Element
Role
Fav. Food
HP
Spirit
Power
Speed
Defense
Evolution
Series code
Type

Ashitagirl

Blamedian

Blazioff

Bogusus

Boreimusha

YW4-039

Boso Mister Mattana

Bunbuku Chagamaru (Boss)

Bushioh

YW11-018

Busomattanashi

Cap'n Rex

Captain Daikokai

YW7-036

Captain Thunder

YW10-020

Casanuva

YW6-011
Wind
Healer
Bread
1060
1300
700
1160
880

Chairman McKraken

Cheatler

Chirpster

YW6-034

Chirpster

YW6-034

Clipso

Clipso

PYW-367

Conger

Copyled

Damashishikoma

Dame Dedtime

Dame Demona

Dame Dredful

Dame Dredful

Dasocks

Dekanyan

EYW-005

Diamant Dokuro

Directator

Do

Dou

Dr. Maddiman

YW4-040

Dr. Maddiman

YW4-040

Dr. Nogut

PYW-368

Dr. Nogut

Dullabel

Duwheel

Fire

Edamame-sama

Eyeclone

Eyeclone

Eyedra

Eyephoon

Falsina

Falspy

Flippa

Fouwl

Fubin

Fullgramps

Fussky

Gargaros

Gattenmeier

Geezel

Gin

Glitzy Bones

YW11-015

Gutsy Bones

YW5-025

Hardy Hound

YW8-029

Hinozall

Hinozall

Hoggles

PYW-365

Horafukizame

Ieah

Impistol

Kabukiroid

Kabukiroid

Kakusei Hinoshin

Kat Kraydel (Boss)

YW12-005
Boss

Kin

Kin and Gin

Kuronyan

Makiagegai

Mallice

Mallice

Massiface

YW2-044

Massiface

YW2-044

McKraken

YW12-006
BOSS

Mimicevil

Moteamasu

Moteamasu

Noruka

Nyurarihyon

Ogralus

Omotenasu

Omotenasu

Orcanos

Otonabull

Ottamagator

Pakka

Pandull

Phantasmurai

YW4-039

Prison Breaker

YW9-039

Rainbone

Recap

Retinado

Retinado

Rhinopposite

Robonyan 28

Robonyan 3000

Rubeus J

YW8-030

Samayo Kaima

Shin

Sing Kong

Soruka

Spooklunk

PYW-369

Squisker

Squisker

Steve Jaws

Styx Mk.VI

PYW-366

Styx Mk.VI

Tarantutor

YW3-030
Lightning

Tarantutor

YW3-030

Tattleterror

Tattletwin

Trippa

Waryu-kun

Whoopie

Wutring

Yurameku Kaima

Kaima

Cap'n Crash

YW7-036
16px
Water
1879
1090
120
0
0
Usurakage
Rice Balls

Abodabat

YW2-032
Wind
Ranger
Meat
960
1360
800
1000
1060

Appak

YW1-032
Water
Attacker
Vegetables
1280
700
1060
1160
860
Walkappa -> Appak

Badsmella

Wind

Bananose

YW1-060
Water
Ranger
Candy
880
680
520
760
520

Belfree

YW1-047
Wind
Tank
Meat
960
1300
800
1020
1100

Betterfly

YW2-026
Restoration
Healer
Drinks
1690
1060
540
980
720
Fusion of Enerfly and Enefly

Bloominoko

YW1-061
Earth
Healer
Hamburgers
1000
980
720
1300
800

Bowminos

YW7-008
Earth
Ranger
Curry
1040
1300
700
1120
880

Bruff

YW2-012
Earth
Tank
Ramen
1060
540
1240
800
1220

Casanono

YW11-003
Fire
Attacker
(yw)Bread (yw2)sweets
1020
1260
700
1120
840

Castelius I

YW1-022
Thunder
Ranger
Milk
1080
440
1000
700
1300
Platinum Ingot↓Castelius Max

Chilhuahua

YW6-020
Ice
Attacker
Ramen
1220
880
1020
1300
1060
Pupsicle -> Chilhuahua

Compunzer

Absorption
Chinese Food

Cuttincheez

YW1-054
Ice
Ranger
Milk
1220
980
980
820
1040

Darknyan

EYW-002
Wind
Ranger
Fish
1220
1120
940
840
1120

Dianyan

YW2-021
Ice
Attacker
Seafood
1240
800
980
1220
980

Dubbles

Water
Candy

Emenyan

YW2-019
Restoration
Healer
Seafood
1200
840
940
1300
940

Enduriphant

YW6-013
Water
Tank
Rice Balls
1040
620
1120
760
1220

Eyesoar

YW12-001
Earth
Tank
Sweets
1020
1400
840
1080
980

Faux Kappa

YW4-020
Water
Attacker
Vegetables
1260
800
940
1260
900

Firewig

Fire
Attacker
Hamburgers
Irewig Lvl 26-> Firewig

Flamurice

YW4-006
Fire
Fighter
Rice Balls
1470
740
1300
1020
880

Foiletta

YW5-021
Absorption
Fighter
Snacks
1260
1120
900
840
1080

Frazzel

YW8-008
Thunder
Fighter
Chinese Food
1020
740
1120
840
1300

Furdinand

YW5-022
Earth
Tank
Rice Balls
1240
1120
860
800
1000

Gimme

Absorption
Sushi

Goldy Bones

YW8-025
scout

Gutsy Bones

YW11-012
Ranger
1060
1280
760
1080
1020

Hardy Hound

YW11-008
Earth
Ranger
1260
800
980
1260
1020

High Gnomey

Restoration
Healer
Snacks

Impass

YW2-014
Earth
Tank
Ramen
1060
540
1040
680
1420

Insomni

YW12-003
Ice
Ranger
Candy
1240
1120
940
840
1120

Jibakoma

YW7-022
Fire
Attacker
Chocobo
1260
880
1020
1260
860

Kapunki

YW9-001
Fire
Fighter
Rice Balls
1490
660
1260
940
800

Kintaro-nyan

YW11-006
Attacker
1040
620
1120
880
1260

Komane

YW1-031
Fire
Attacker
Milk
1240
820
860
1240
860

Komiger

YW2-022
Thunder
Attacker
Milk
1200
840
940
1220
860
Komajiro -> Komiger

Lamedian

Absorption
Chinese Food

Lie-in Heart

YW4-004
Fire
Fighter
Meat
1450
700
1300
1020
880

Machonyan

YW7-002
Thunder
Chocobo
1510
580
1340
980
800

Mad Kappa

YW9-027
Water
Fighter
Vegetables
1730
1280
1020
1140
920

Mama Aura

Restoration
Healer
Vegetables

Master Oden

YW6-010
Thunder
Healer
Oden
1020
1220
660
1000
760

Melonyan

YW6-022
Ice
Healer
Chocobo
1220
840
980
1260
980

Miradox

YW9-006
Tank
Chinese Food
1040
1300
700
1120
960

Mircle

YW3-005
Absorption
Tank
Chinese Food
980
1340
540
920
920

Negasus

YW11-013
Wind
Attacker
Vegetables
1000
1400
760
1040
900

Neighfarious

YW11-011
Absorption
Tank
Vegetables
1020
1320
840
1000
940

Nul

YW3-020
Wind
Ranger
Rice Balls
1000
1400
880
1160
780

Nyankishi

YW9-003
Ice
Tank
1490
580
1260
1020
920

Nyanmajo

YW9-007
Fire
Attacker
1040
1300
620
1160
840

Pandanoko

YW2-041
Ice
Healer
Hamburgers
1020
1080
760
1240
840

Papa Bolt

YW4-024
Thunder
Tank
Meat (YW1) Sushi (YW2)
1750
980
700
980
840

Pookivil

YW9-014
Absorption
Healer
Hamburgers
1260
760
940
1220
900

Reuknight

YW5-003
Thunder
Tank
Vegetables
1510
620
1260
900
840
Helmsman + Armsman -> Reuknight

Reversa

YW1-040
Restoration
Healer
Bread
1650
920
620
880
800

Reversette

YW2-027
Wind
Attacker
Bread
1690
1020
700
940
760

Robokapp

Water
Fish

Robokoma

YW9-015
Fire
Ranger
Milk
1260
840
900
1220
900

Robonyan

YW1-023
Ice
Tank
Seafood(YW)

Chocobo(YW2)

1080
480
1120
780
1300

Robonyan F

YW7-015
Fire
Tank
Chocobo
1060
540
1200
800
1340

Rubeus J

YW11-009
Fire
Attacker
1260
800
1100
1260
980

Rubinyan

YW8-016
Fire
Attacker
Seafood
1280
760
1100
1180
900

Sailornyan

YW7-023
Restoration
Healer
Chocobar
1260
880
900
1300
980

Sapphinyan

YW2-020
Water
Attacker
Seafood

Scarasol

YW5-016
Earth
Tank
Sushi
1710
940
700
900
840

Scritchy

YW2-031
Thunder
Ranger
Drinks
1060
1320
840
1160
940

Sheen

YW3-002
Wind
Attacker
Seafood
1510
580
1340
1020
680

Signiton

YW1-013
Thunder
Attacker
Rice Balls
960
1200
620
940
800

Sir Berus

YW2-036
Earth
Fighter
Chinese Food (YW) Curry (YW2)
1240
1040
1060
800
1080

Siro

YW1-004
Thunder
Ranger
Meat
1430
560
1300
1000
800

Skreek

YW1-053
Wind
Attacker
Bread
1280
1020
980
780
1040

Slitheref

YW3-028
Thunder
Ranger
Seafood
1040
960
840
1000
840

Smogmella

YW7-009
Wind
Fighter
Sweet Things
1040
1300
700
1160
880

Snee

YW4-005
Absorption
Seafood
1490
700
1260
980
800

Supoor Hero

YW13-003
Wind
Ranger
Milk
1690
980
700
980
840

Supyo

YW2-023
Water
Attacker
Vegetables
1300
840
980
1180
860

Swosh

YW8-011
Water
Tank
Vegetables
1080
730
1140
840
1410

Taronyan

YW9-004
Fire
Tank
1490
620
1260
980
960

Timidevil

YW3-021
Fire
Attacker
Ramen
920
1360
920
1040
980
and Shard of Evil -> Beelzebold

Topanyan

YW4-021
Thunder
Tank
Seafood
1260
800
980
1260
1020

Tunatic

Fire
Meat

Urashima-nyan

YW10-006
Water
Healer
1710
1020
660
980
840

Vacuumory

YW8-024
Restoration
Healer
Soba
1040
1120
760
1080
880
Flushback -> Vacuumory

Walldin

YW2-013
Earth
Tank
Ramen
1080
500
1120
720
1460

Watermelnyan

YW6-021
Wind
Tank
Chocobar
1240
840
1020
1300
1060

Whinona

Thunder
Attacker
Sweets

Zerberker

YW6-005
Fire
Meat
1490
700
1300
1020
880
Restoration
Chinese Food
Restoration
Oden
Nyororon
Oden
Ice
Sweets
Ice
Attacker
Sushi

Agon

Earth
Fighter
Candy

Alhail

YW10-015
Ice
Tank
Drinks
1170
1060
770
720
1140
Slush -> Alhail

Allnyta

YW7-029
Lightning
Hamburgers
1020
1320
680
1020
770
Wydeawake -> Allnyta

Alloo

YW2-010
Thunder
Attacker
Chinese Food
960
1270
510
1100
760

Almi

YW1-059
Water
Tank
Bread
1000
920
680
920
1000

B Jibanyan

YW8-027
Attacker
1230
640
1010
1350
930

B Komasan

YW8-026
Attacker
Ice Cream
1230
680
1010
1190
970

B-USApyon

YW10-013
Ice
Attacker
Doughnuts
1080
1160
880
1100
770

B3-NK1

YW2-004
Thunder
Tank
Chinese Food
1430
590
1270
970
680

Baddinyan

YW1-030
Fire
Attacker
Sea food (YW1)

Chocobo (YW2)

1230
540
970
1250
930
Jibanyan ➕ Roughraff => Baddinyan

Badude

YW1-021
Earth
Attacker
Ramen
1020
410
1140
740
1150

Bakulia

YW4-018
Absorption
Attacker
Juice
1230
800
930
1190
930
Baku -> Obaku-sama

Beetler

YW8-001
Earth
Fighter
Vegetables
1450
110
1190
890
800
Fused with General's Soul →‎ Beetall

Blandon

YW3-019
Wind
Ranger
Rice Balls
980
1320
800
1100
770

Carniboy

Fire
Ranger
Meat

Castelius II

YW1-020
Ice
Tank
Milk
1020
450
980
700
1230
Castelius II↓Castelius I

Confuze

Absorption
Candy

Contrarioni

YW4-029
Thunder
Tank
Chinese Food
1020
1280
760
1060
930

Copperled

YW3-026
Fire
Ranger
Seafood
1020
980
760
1100
760

Cynake

YW3-027
Water
Ranger
Seafood
1000
1100
640
980
800

Darumacho

YW7-013
Earth
Tank
Bread
1020
630
1060
800
1270

Doggynyan

YW9-010
Earth
Fighter
1020
550
1060
800
1190

Draaagin

Ice
Ramen

Dracunyan

YW5-017
Drain
Fighter
Chocobar
1020
1320
800
1060
930

Drizzle

YW4-033
Water
Attacker
Drinks
1210
1060
850
800
1020

Espy

Earth
Vegetables

Frostina

YW3-013
Ice
Attacker
Candy
1210
880
810
1230
850
And Glacial Clip → Blizzaria

Goruma

Wind
Bread

Grainpa

YW1-039
Restoration
Healer
Rice Balls
1670
910
630
870
760

Groupus Khan

PYW-124
Wind
Meat
1020
1280
800
1060
930

Grumples

YW13-006
Absorption
Ranger
Milk
1210
1060
890
800
1020
fused with Ageless Powder -> Everfore

Harry Barry

Restoration
Healer
Meat

Houzzat

Fushigi
Cheap Sweets

Hovernyan

EYW-001
Wind
Fighter
Seafood
1430
670
1230
970
800

Hungorge

YW1-038
Absorption
Healer
Rice Balls
1540
680
500
720
720

Infour

YW7-007
Absorption
Attacker
Vegetables
1000
1190
630
1020
760

Jetnyan

YW7-020
Wind
Attacker
chacobar
1230
880
810
1270
930

Kiwinyan

YW6-017
Earth
Tank
Chocobo
1190
760
930
1190
930

Lava Lord

YW5-010
Thunder
Tank
Rice Balls (YW) Sushi (YW2)
1040
550
1020
720
1190

Madmunch

Earth

Mistank

YW7-012
Earth
Tank
Rice Balls
1020
630
1060
800
1190
No-Go Kart ➕ Ledballoon = Mistank

Mister Sandmeh

Restoration
Healer
Oden Stew

Monkeynyan

YW9-013
Earth
Ranger
1230
760
930
1350
930

Moximous K

Water
Fighter
Snacks

Moximous N

Wind
Fighter
Snacks

Multimutt

YW1-052
Fire
Ranger
Chinese Food (YW) Curry (YW2)
1210
920
970
740
980
Manjimutt -> Multimutt

Nird

YW1-046
Wind
Ranger
Vegetables (YW)

Bread (YW2)

960
1260
680
1040
850

No Sandkyu

PYW-125
Earth
Ranger
Oden
1230
1060
850
720
1060

Nurse Tongus

Restoration
Healer
Vegetables

Ol' Fortune

YW6-027
Thunder
Healer
Milk
1650
890
670
850
680

Ol' Saint Trick

YW6-026
Restoration
Healer
Milk
1670
970
670
970
800
Does not evolve.

Oranyan

YW6-019
Thunder
Healer
Chocobo
1230
800
930
1190
890

Panja Pro

PYW-122
Ice
Attacker
Sushi
1210
720
890
1190
850

Pheasanyan

YW9-018
Wind
Healer
1670
970
550
930
800

Pinkipoo

YW4-019
Restoration
Healer
Hamburgers
1230
950
800
1190
930
Shmoopie + Love Scepter = Pinkipoo

Pintocorn

Pride Shrimp

YW7-014
Restoration
Tank
Seafood
1020
670
1020
760
1230
Evolves from Wotchagot when fused with Papa Windbag.

Quaken

YW2-005
Earth
Ranger
Meat
1390
630
1190
890
680

Rageon

Thunder
Meat

Rawry

YW8-021
Ice
Attacker
Curry
1230
1020
930
800
1020
Otomorashi -> Bakuonnarashi

Rhinoggin

YW4-013
Earth
Tank
Vegetables
1020
550
980
640
1150
Fused with Unbeatable Soul - > Rhinormous

Robbinyu

YW13-007
Drain
Ranger
Hamburgers
1230
1060
930
840
1060

Robodraggie

Fire
Tank

Robogramps

YW7-026
Restoration
Healer
Rice Balls
1650
930
590
890
800

Robomutt

Wind
Ranger
Curry

Robonoko

Earth
Tank
Hamburgers

Rollen

Water
Candy

Shrook

YW11-014
Water
Tank
Vegetables
1040
1020
800
1060
800

Singcada

YW2-018
Fire
Ranger
Drinks
1230
800
970
1270
770

Skelebella

YW5-012
Water
Healer
Hamburgers (YW)

Sweets (YW2)

1230
720
890
1150
930

Slacka-slash

YW10-001
Ice
Attacker
Drinks
1450
630
1190
930
800

Slimamander

YW4-030
Fire
Attacker
Oden
1000
1280
800
1020
850

Snobetty

Ice

Snortlehog

PYW-118
Fire
Ranger
Curry
1430
670
1230
930
880

Sproink

YW4-034
Fire
Tank
Curry
1230
1060
930
800
1100

Sproink

YW1-063
Bukimi
Boss
1230
160
40
800
0

Starry Noko

Restoration
Ranger
Doughnuts
940
1180
920
1060
960
none

Starrycane

PYW-123
Restoration
Healer
Candy
1630
930
630
930
800

Strawbnyan

YW6-016
Fire
Healer
Chocobo
1190
800
930
1230
930

Sushiyama

YW4-003
Ice
Rice Balls (YW) Soba Noodles (YW2)
1430
670
1190
930
800

SV Snaggerjag

YW9-022
Water
Attacker
Oden
1020
1120
800
1080
800

SV Snaggerjag

YW2-045
Nyororon
Oden
20
20
20
20

Takoyaking

PYW-126
Fire
Attacker
Oden
1020
980
760
980
760

Tanbo

YW1-003
Earth
Rice Balls
1530
490
1270
870
600

Tattlecast

YW2-009
Restoration
Healer
Ramen
960
1270
550
1100
720

Thornyan

YW3-012
Wind
Attacker
Seafood
1210
680
810
1310
890
Jibanyan ➕ Coughkoff => Thornyan

Time Keeler

PYW-119
Water
Tank
Fish
1410
510
1150
770
760

USApyon

YW9-042
Ice
Attacker
Doughnuts
1020
1240
800
1100
890

Verygoodsir

YW6-00
Restoration
Healer
Soba
1000
1190
630
1020
680

Washogun

YW6-004
Ice
Healer
Sweets
1450
630