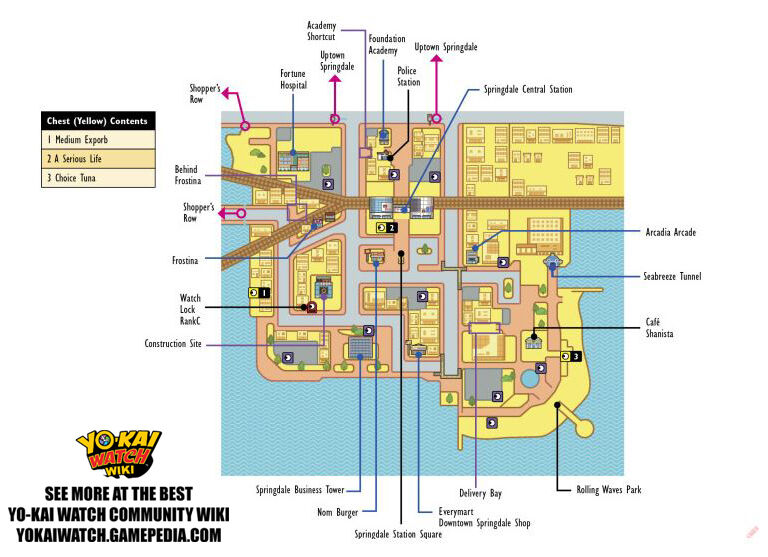 Points of Interest
Springdale Central Station - A train station that can take you to Blossom Heights! Located right in the center of Downtown Springdale.
Fortune Hospital - A Hospital where you can find some Requests to complete. This Hospital even has a doctor who sells you some items... but only at Night..
Foundation Academy - A school where students go to class and study. Some students are even there for summer school.
Police Station - The police station where the officers outside warn you about jaywalking..
Academy Shortcut - Located between the Foundation Academy and the Police Station. Many stray Yo-kai wander this alley.
Arcadia Arcade - A cool arcade where kids hang out and play games.
Seabreeze Tunnel - A tunnel that connects Downtown Springdale to Breezy Hills.
Rolling Waves Park - A park on the eastern side of Downtown Springdale. They even have a Dolphin swimming in a large tank, how cool!
The Ocean - You can find the Ocean on the far East side of Downtown Springdale. Relax on the beach, fish in the water, or search for Yo-kai in the waves!
Springdale Business Tower - This is where Nathan and Katie's fathers work. You can even visit them while they work! Gain access to other floors to find some Yo-kai wandering the tower.
Construction Site - Once upgrading your Watch to Rank C, you will be able to unlock the gate blocking the Construction Site. You can wander the Construction Site to find some interesting Yo-kai. You may only enter the Construction Site at Night.
Frostia's Place - A cool bar type place run by Ms. Frost. It's only open at Night, but you can enter through the back door during the Day through the alley Behind Frostia's Place.
Behind Frostia's Place - An alleyway right behind Frostia's Place. You can enter Frostia's Place through an entrance in this alley.
Nom Burger - A burger joint in Downtown Springdale! Come here to purchase many types of burgers. Use your burgers to heal your Yo-kai or befriend new ones!
Everymart Downtown Springdale - convenience store allowing for healing of Yo-kai and purchasing of items..
Delivery Bay - An alley located close to Rolling Waves Park. Stray Yo-kai may be found wandering this alley. You can also access the Springdale Underground Waterway from this alley.
Chest Contents
Shops in Downtown Springdale
Everymart Downtown Springdale Branch
Fortune Hospital
Nom Burger