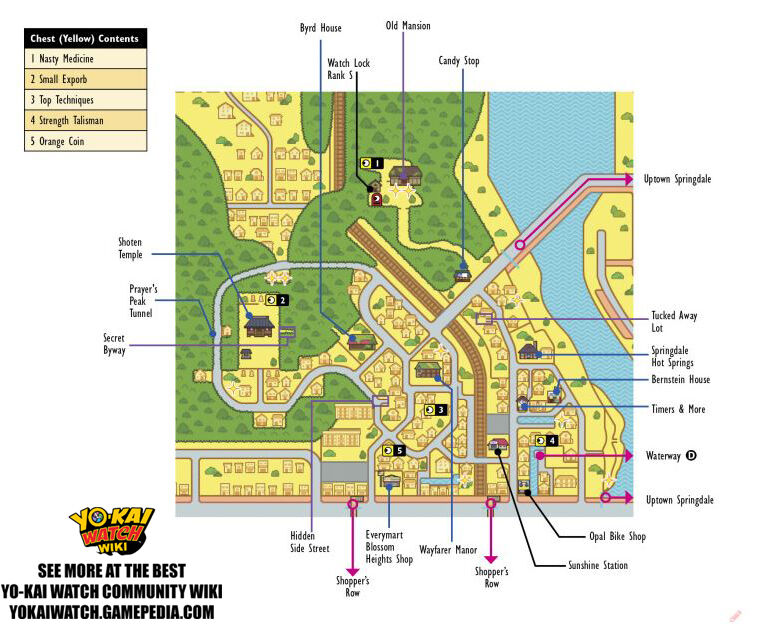 Points of Interest
Sunshine Station - A railway that will take you Downtown once you reach a certain part of the story.
Timers & More - Mr. Goodsight will help you upgrade your watch so you can find stronger Yo-kai!  In order to upgrade your watch, you must complete any quest he may give you.
Old Mansion - The Old Mansion is located to the Northeast of Blossom Heights. There are many stray Yo-kai that you can find here.
Bernstein House - This is where your good friend Bear lives. The first floor of his house is actually his dad's shop!
Springdale Hot Springs - A great place to relax! You can also purchase some Food here and find some more quests to complete!
Everymart Blossom Heights - convenience store allowing for healing of Yo-kai and purchasing of items.
Candy Stop - They sell an assortment of sweets that will heal your Yo-kai and make befriending others much easier!
Wayfarer Manor - Visit here to activate Streetpass. Once activated, Yo-kai from other 3DS owners may show up here if you pass by them with your 3DS! You can receive items and possible befriend their leading three Yo-kai.
Shoten Temple - Bring your Yo-kai here to see if any of them can be fused to form new, stronger Yo-kai! You can even fuse items together or with your Yo-kai!
Chest Contents
Shops in Blossom Heights
Candy Stop
Everymart Blossom Heights Branch
Springdale Hot Springs